Salesforce has expanded their Service Cloud offerings by adding Field Service Lightning. Field Service Lightning works with Service Cloud, adding functionality for dispatching, monitoring, and reporting field service representative's activity. Salesforce FSL product focuses on putting the right mobile employee in the right place, at the right time, to meet or exceed customers' expectations. The offline-friendly "Field Service Lightning" mobile app for iOS and Android makes work a pleasure for technicians in the field. App users can update work orders, track parts, gather customer signatures, and connect with dispatchers from their mobile devices. With Field Service Lightning, you get the tools that you need to manage work orders, schedule appointments and manage your mobile workforce. Here are some of the things we can do with Field Service Lightning are:
Create Service Technicians, Dispatchers and Agents and add details about them.
Set up service territories where the technicians need to work.
Manage Locations, Inventory and customer sites.
Schedule work orders for customers based on the customer preference and required skills.
Create Maintenance Plans.
Dispatch Supervisors the ability to view and manage work from either Gantt chart or map view.
Generate Service Reports.
Captures electronic signatures for work orders or service reports.
App users can update work orders and close the work orders.
Components of Field Service Lightning:
1.Core Features. 2.Managed Package. 3.Field Service Mobile App. After enabled Field Service Lightning the Core Features are ready for configuring. Through Managed Package we can gain access to the dispatcher console, scheduling tools, a range of custom objects. The Field Service Mobile App works offline, so technicians can complete their work even with limited or no network connectivity.
Setup and Working of Field Service Lightning:
Field Service Players (Users) fall into the following categories: 1) FSL Admin. 2) FSL Agent. 3) FSL Dispatcher. 4) FSL Technician (Resource). The FSL Admin configures Field Service Lightning and assign required permissions to various users. The FSL Agent handles cases and creates work orders and books appointments with customer. The FSL Dispatcher assigns technicians to the work orders and appointments and schedule appointments based on skills and routing policy. The FSL Technician (Resource) receive work orders and appointments and also update the status of their appointments and closes them in the Field Service mobile app.
1)FSL Admin:
Admin will do all configuration settings like enable Field Service Lightning, Install the Field Service Lightning Managed Package and sets up user permission sets to different users as needed for our org.
Enable & Installing Field Service Lightning:
From Setup, enter Field Service Settings in the Quick Find box, then select Field Service Settings.
Enable Field Service Lightning and click Save.
After Field Service Lightning is enabled, install the Field Service Lightning managed package to gain access to the dispatcher console, scheduling tools, a range of custom objects. Once the package is installed, the App Launcher includes two new apps.

The Field Service app is for dispatchers. The Field Service tab in this app leads to the dispatcher console.
The Field Service Admin app is for administrators. The Field Service Settings tab in this app leads to the managed package settings.
Admin will work on Field Service Admin App. Admin will do all configuration settings through Field Service Settings tab in Field Service Admin App. Admin has to create permission sets from Permission Sets Tab then he can assign different permission sets to different users.
Below table is for needed permission sets for Different Users.
| | |
| --- | --- |
| FSL Admin | FSL Admin License FSL Admin Permissions |
| FSL Agent | FSL Agent License FSL Agent Permissions |
| FSL Dispatcher | FSL Dispatcher License FSL Dispatcher Permissions |
| FSL Resource | FSL Mobile License FSL Scheduling License FSL Resource Permissions |
Setting up FSL:
First admin has to create Operating hours with Time slots from Operating Hours Tab. Operating Hours will define a Working hours for the Service resource. Admin has to create Service Territories with Operating Hours from Service Territories Tab. Then he should give Service territory members in Service Territory Member related list. Service territories will define a regions where service resource will work. Admin has to create Service Resource with Resource type from Service Resources Tab. Every resource should tag with one User. Admin should define skills to the resource through Resource Views section in the Service Resource Detail page. Admin has to create Work Types with Duration Type, Estimated Duration and Due date from Work Types Tab. Work Type will define the which type of work it is. If he selected Auto-Create Service Appointment check box it will automatically creates Service Appointment when creating work order.Admin should define skills to the work type through Skills Editor section. Admin has to create Scheduling Policies and Work Rules through Respective Tabs. Scheduling Policies will filter out service resources based on Work Rules when dispatcher scheduling Service Appointments. Admin should define Work rules to Scheduling policies through "Scheduling Policies work rule" related list in Scheduling policies.
2)FSL Agent:
Agent will work on "Field Service App". Agent has to create Work Orders and Service Appointments. He can create Work Orders and Service Appointments from Respective Tabs.

If there is any emergency appointment, agent can directly Schedule Service Appointments through Book Appointments, Candidates, Emergency actions in Feed tab.Through Emergency action he can schedule service appointment to nearest available  service resource regardless of territory.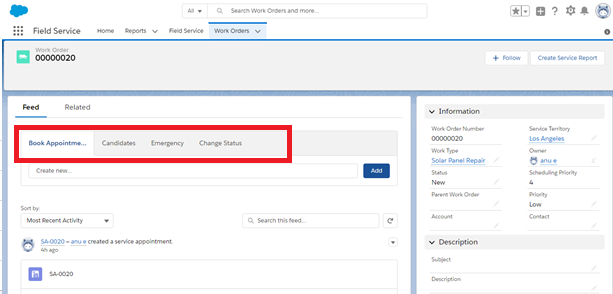 Agent can add Products, Product line items through Related lists in Work Order. These products will be used to complete the work order. Agent can also attach Knowledge Articles through Knowledge section related list.
3)Dispatcher:
Dispatcher will work on Dispatcher Console. He can open Dispatcher console through Field Service Tab in Field Service App. It will display Service Appointments left side of the Dispatcher console. We can fileter service Appointments By selecting List views. Horizon date will filter all service appointments before the Horizon date. Policies will filter the service resources when scheduling appointments. It will assign appointment to resource based on scheduling policies.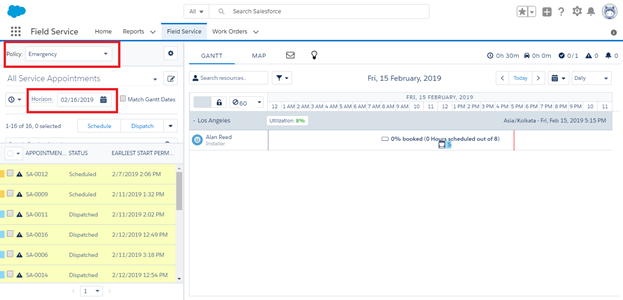 Dispatcher can schedule Service Appointments in two ways. One is selecting the service appointment and then click on schedule button and another one is just dragging and dropping the service appoint to resource. If he scheduled service appointment the scheduled start and scheduled end date will automatically update based on Duration Type, Estimated Duration, Due Date which admin has mentioned in work type. If he Dispatched the Service appointment by clicking on Dispatch button the service appointment will share with the service resource. Coming to Gantt chart which is right side of the Dispatcher console. In GANTT it will display the Territories and resources under territories and it will display scheduled appointments in resource slots. And we can filter resources by using filter icon. Coming to MAP tab in GANTT chart it will display all resources, service appointments, service territories markers.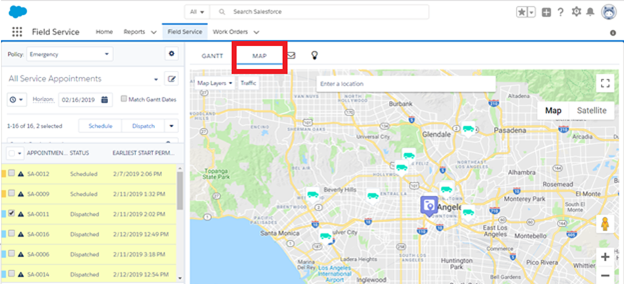 It will display markers based on selecting options from markers tab in MapLayers. Dispatcher can search service resources and display marker by selecting service resource tab. Dispatcher can draw a polygon for particular area, through that he can mass update the appointments in that polygon. Dispatcher can see live traffic by selecting Traffic.
4)FSL Technician (Resource):
Technician can work in Field Service Lightning mobile app. He can see scheduled appointments in his mobile app. Technician can get driving directions through Get Driving Directions option and he can contact customer. He can start working on scheduled appointments. Technician can add consumed products through Consumed products Related list on Work Order. Technician can generate service report and he can take digital signature from customer and he can send that Service Report to Customer. Technician can complete the Service Appointment by updating status.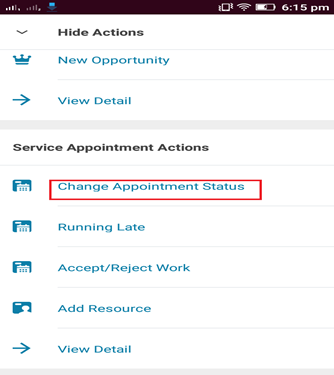 Conclusion:
Finally, Field Service Lightning is important tool for many industries like vending machine services,  public utilities and transportation, telecommunications, waste management, in-home health and child care, financial services, retail, professional services, and manufacturing.