Gitex 2023 will become the most important IT exhibition in the U.A.E region. It will showcase innovative products worldwide. This year, GITEX is gathering promising startups to showcase their impressive innovations to international investors. Topics include cybersecurity and quantum computing.
The Gulf Information Technology Exhibition (GITEX) will take place at the Dubai World Trade Center from 16th to 20th October, 2023. This exhibition is a testament to the impact of technology in shaping our dynamic modern world. Many individuals are eager to learn about the current technological dominance.
The objective of GITEX 2023 is to unite the foremost professionals in technology, innovators, academics, researchers, and developers globally to promote collaboration and integration. In addition, it aims to drive the fierce worldwide race for Generative AI dominance by transforming advanced technologies into pragmatic business solutions that impact communities and accelerate progress in urban development.
Attractions of GITEX 2023
GITEX 2023 features keynote speeches, Exhibitors, networking, demos, and workshops.


Over 42 Years Of GITEX:
Key moments from the GITEX Global Showcase and Networking Gathering
The event showcases the latest technological advances in sectors like smart cities, cybersecurity, metaverse, data economy, mobility, healthcare, and telecommunications.
Attendees include technology leaders, innovators, experts, entrepreneurs, and enthusiasts.
Participants come to know about most emerging technologies and discover new products and services.
GITEX Global was widely recognized for providing valuable insights into future trends and opportunities through workshops, panel discussions, and keynote speakers.
GITEX Global provided a platform to numerous entrepreneurs worldwide for networking, knowledge sharing, exchanging ideas, and collaborating with peers globally.
GITEX Global is a must-attend event for anyone who is passionate about technology.
ABSYZ's Participation In The GITEX 2023 Event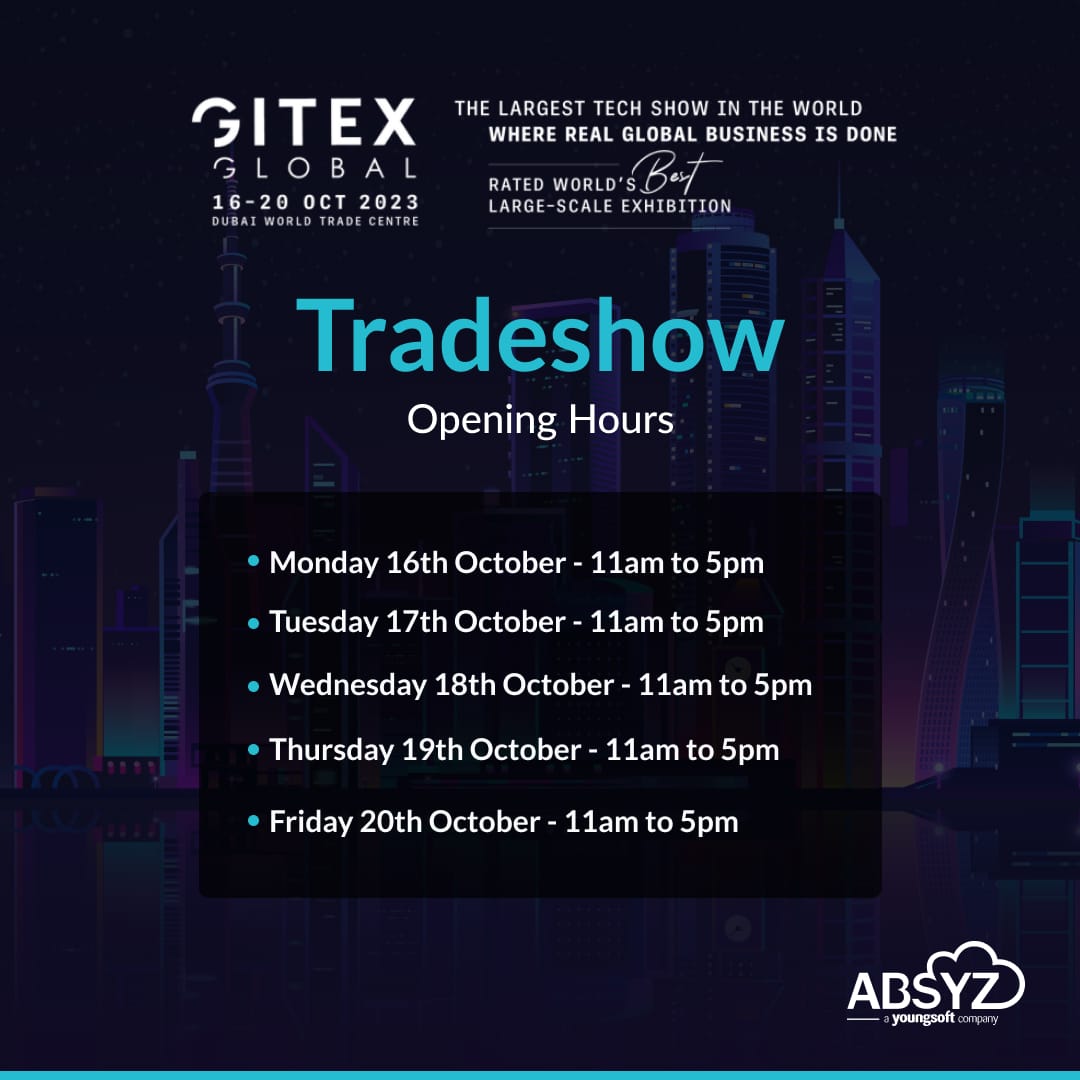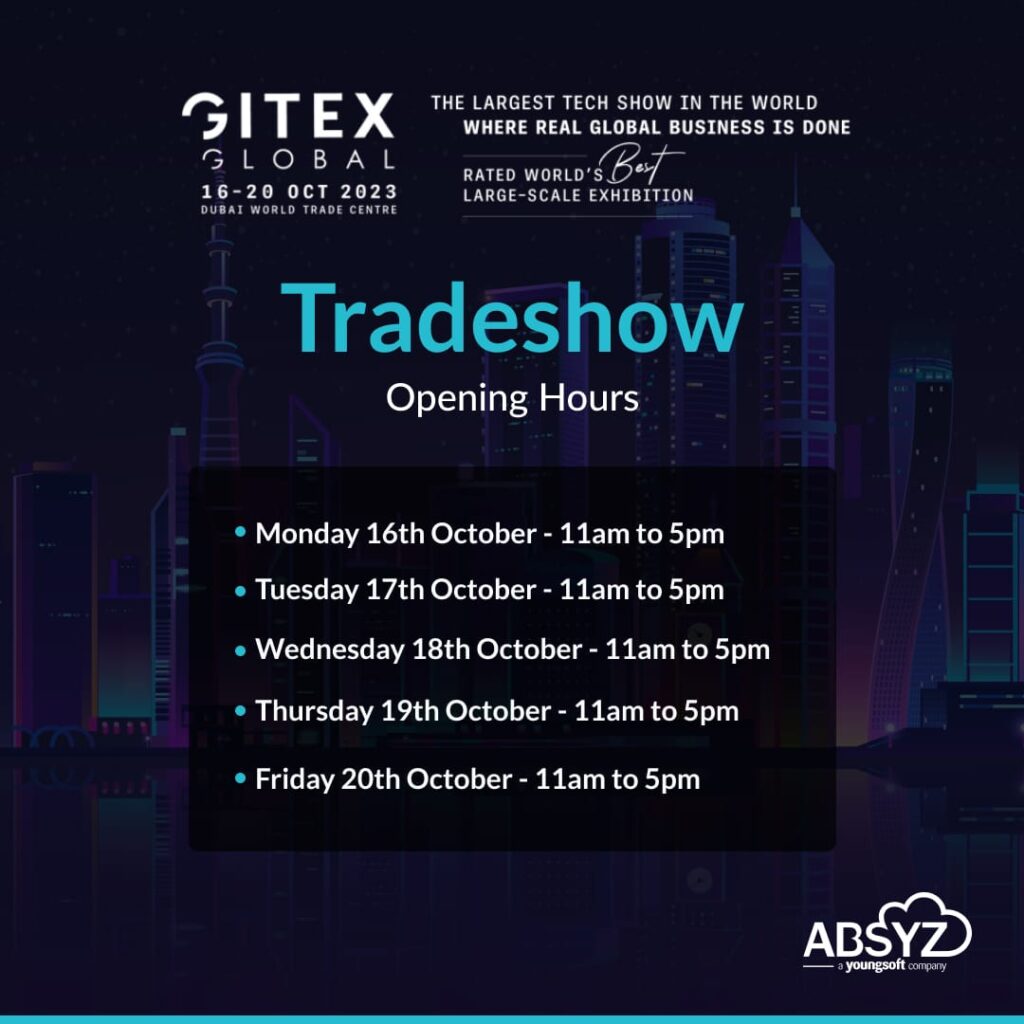 ABSYZ is set to significantly impact Gitex 2023, located at Hall 8, Stand 50 in Dubai World Trade Center. As a technology partner, they are excited to showcase their innovative solutions and engage in tech-related discussions with fellow attendees. This event presents unparalleled networking opportunities, global reach, and valuable idea exchange. ABSYZ proudly demonstrates its extensive technological expertise through fascinating exhibit booths and in-depth learning sessions. Gitex 2023 is a perfect platform to explore technology possibilities and promote professional collaboration. ABSYZ cordially invites attendees to visit Gitex 2023 to witness their dynamic role and create a buzz. We are eager to provide insights on emerging technologies and answer any queries related to the event.
ABSYZ Offer A Wide Range Of Salesforce Solutions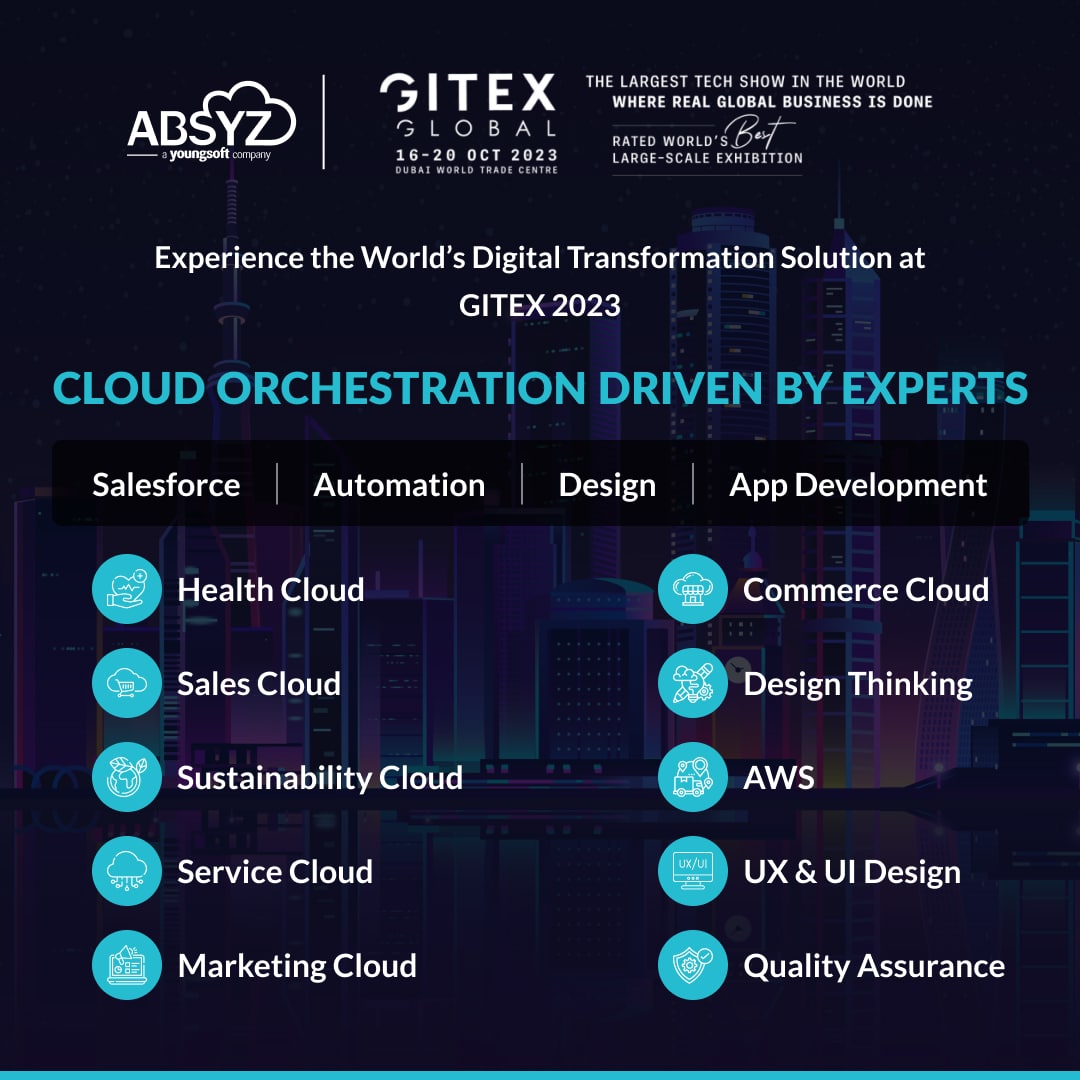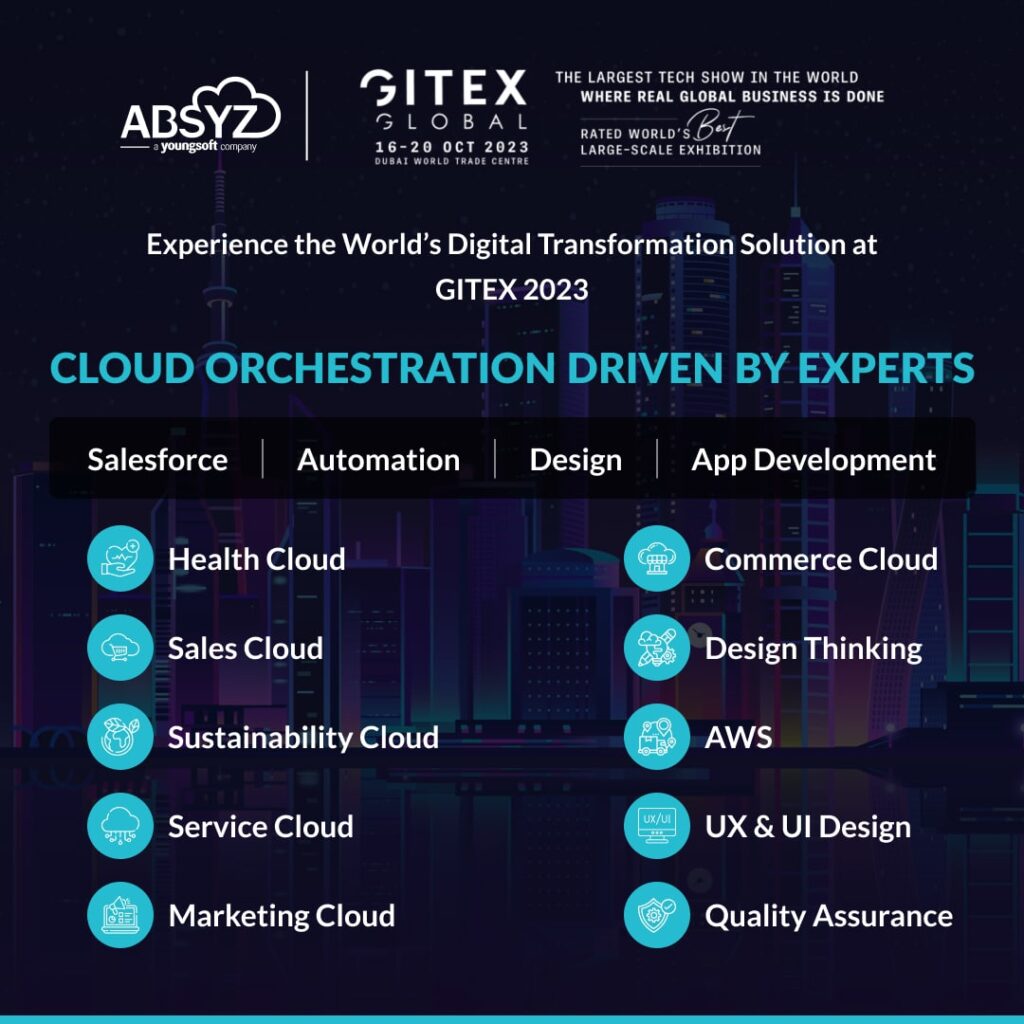 We at ABSYZ are thrilled to present our product line at the upcoming GITEX 2023 event at Hall 8, Stand No. 50. This event provides a fantastic chance for industry professionals to network, exchange ideas, and gain global exposure. Our exhibition booth will host informative deep-learning sessions and professional Salesforce Services, underscoring our reputation as a dependable technology partner. Join us to discover the latest emerging technologies and learn how our expertise can help you achieve your objectives and meet worldwide standards. Contact us for additional information, and visit our exhibit at GITEX 2023 for an empowering experience.
For More Details: https://absyz.com/our-services/gitex-2023-broucher.pdf