What is Salesforce Sales Cloud?
Salesforce Sales Cloud is a versatile CRM platform that can be customized for sales, marketing, and customer support in both B2B and B2C contexts. It integrates customer information, marketing, lead generation, sales, customer service, and business analytics. The platform is available as SaaS for browser and mobile access and real-time social collaboration.
Here are the key business goals achieved using Sales Cloud
Increase deal closures – Access to all the necessary customer accounts and product information makes converting more leads into sales more straightforward.
Get deals closed faster – Using mobile apps and visually-designed workflows for business process approvals can accelerate the process of closing deals.
Discover more deals – Customizing campaigns based on market feedback and working closely with channel partners can improve the chances of closing deals effectively.
Quicker decision making – Having readily available reports and dashboards provides a comprehensive understanding of the business situation, improving sales forecasting accuracy and enabling faster decision-making.


Features of Salesforce Sales Cloud
our comprehensive infographic highlighting the powerful features of Salesforce Sales Cloud, the world's leading customer relationship management (CRM) platform. Designed to streamline sales processes, enhance customer engagement, and drive revenue growth, Sales Cloud offers a wide range of cutting-edge functionalities and tools. In this visually engaging infographic, we will explore the key features that make Salesforce Sales Cloud a game-changer for sales teams, empowering them to optimize their sales cycles, foster meaningful customer relationships, and achieve exceptional business results. So, let's dive into the exciting world of Salesforce Sales Cloud and discover how it can revolutionize your sales operations.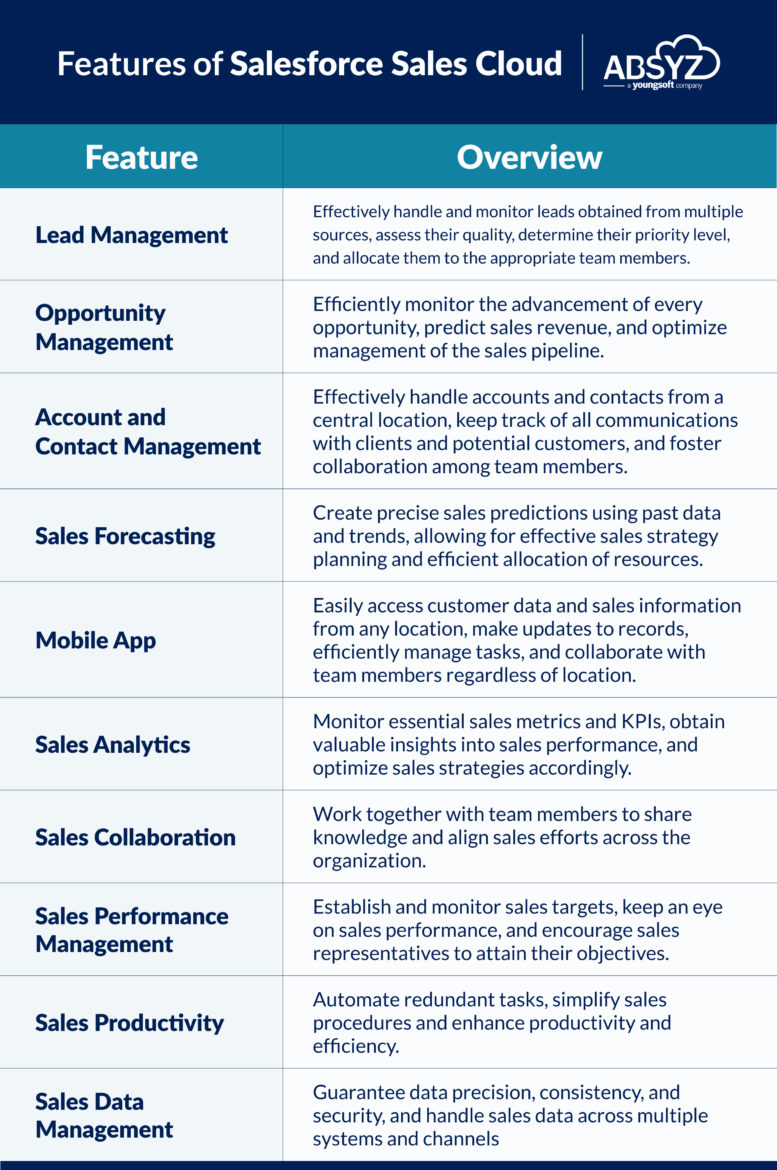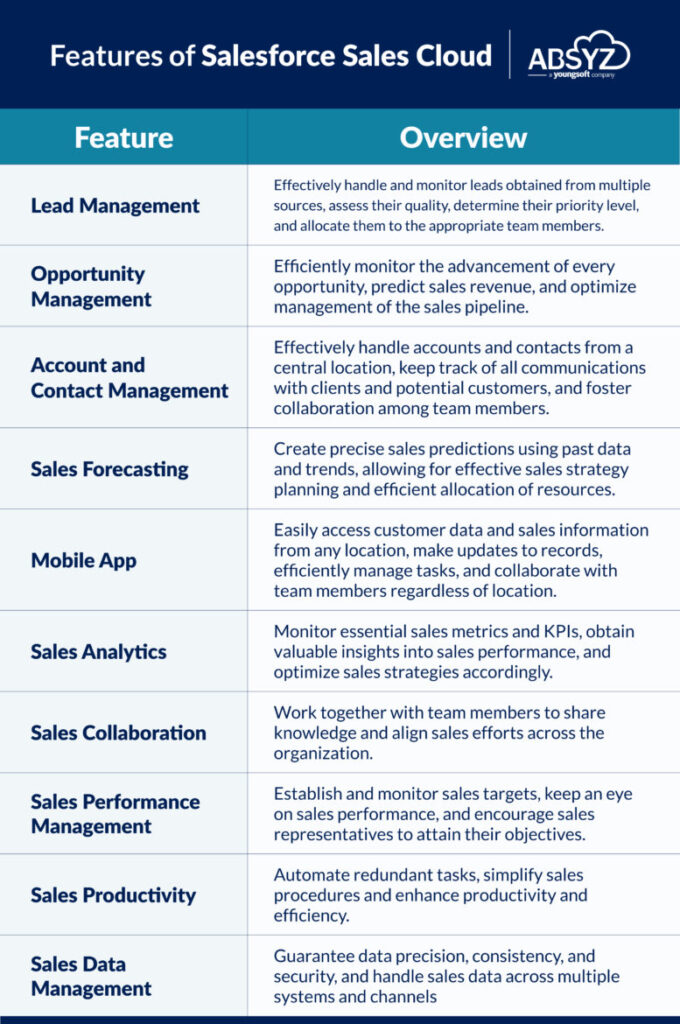 Salesforce Sales Cloud Pricing
Unlock the potential of Salesforce Sales Cloud pricing with our informative infographic. Discover the various pricing options and plans available for this powerful CRM platform. Understanding the pricing structure is crucial for optimizing sales operations and maximizing return on investment. In this visually engaging infographic, explore different pricing tiers, features, and benefits associated with each plan. By the end, you'll have a comprehensive understanding of Salesforce Sales Cloud's pricing model, enabling you to make an informed decision that suits your business needs. Let's dive into the world of Salesforce Sales Cloud pricing and unleash its potential for your organization.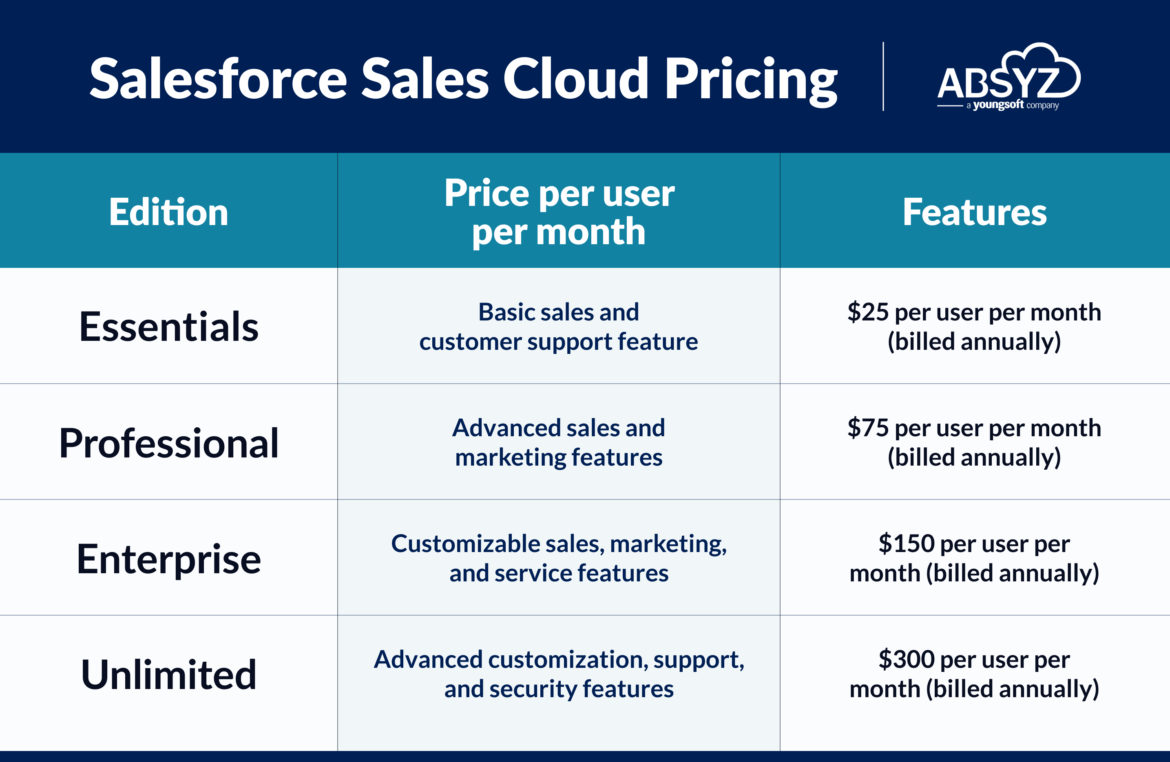 It's important to note that the pricing for Salesforce Sales Cloud can be impacted by the number of users and subscription duration. In addition, Salesforce offers various add-ons and supplementary features that can be purchased separately. We recommend visiting the Salesforce website to obtain the most up-to-date pricing information and specific details regarding each plan's features.
Conclusion
Salesforce Sales Cloud is a robust CRM platform that enables businesses to manage their sales processes efficiently. Its features include lead and opportunity management, sales forecasting, account and contact management, and sales analytics. Sales Cloud's customizable and scalable solutions can be adapted to meet the unique needs of businesses across industries and sizes. Though pricing may differ based on various factors, the platform's advanced features can help businesses streamline sales processes, boost productivity, and drive revenue growth. Overall, Salesforce Sales Cloud is an indispensable tool for businesses looking to enhance their customer relationship management capabilities.