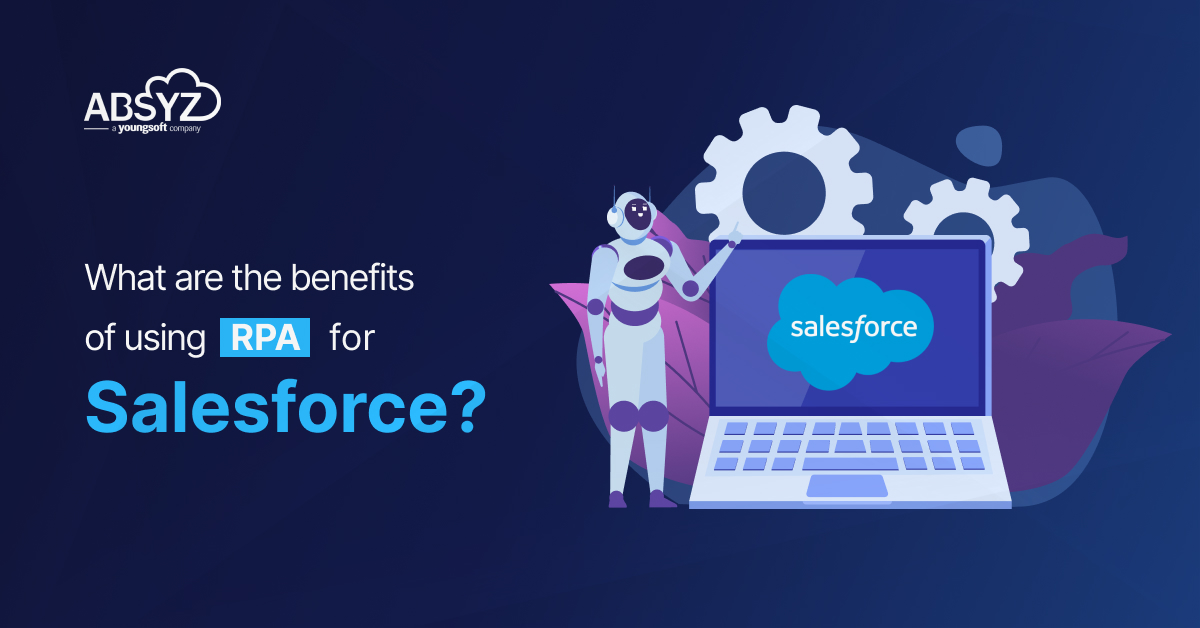 RPA (Robotic Process Automation) is a technology used with Salesforce to boost productivity and reduce human error while doing repetitive tasks like data migration. This post will learn what RPA for Salesforce is and its method.
OVERVIEW
Any CRM system that is a mandatory requirement for an organization to run its business successfully needs a massive allocation of resources. Apart from it, there is another need to put the productivity rates high and identify the bottlenecks related to CRM. A measure to improve the overall effectiveness of a CRM is to use robotic process automation services. This measure will automate repetitive, simple, rule-based, and high-volume tasks in the CRM.
Scope
Salesforce uses Automated data entry, finds information faster, Reports generation for tickets, goes Account and contact creation, and Integrates Salesforce with other business applications. The Salesforce Robotic Process Automation helps every Salesforce customer automate time-consuming, manual processes and integrates data, empowering the admins of all backgrounds. Einstein Automate involves workflow automation, most acceptable integration, digital interactions, and AI capabilities. Salesforce has achieved a rapid turnaround through its Robotic Process Automation. Now there is intelligent processing of documents, entering data, or taking some action to benefit the users. The Einstein Document Reader can scan documents and act on that data in a few clicks in Salesforce Flow to improve accuracy, reduce human error, and improve accuracy.
RPA software imitates human actions in a quick and less error-prone manner. Professionals can do predictable, rule-based, and repetitive tasks through this technology, work on high-value jobs, and use creative and critical thinking. The focus is on building strong customer relationships and creating more deals. It can read data in Salesforce and transfer it to another CRM or ERP system, with updated customer details not involving human interference.
Benefits of RPA integration and focus on Salesforce
Cost reduction: Through RPA, automatically, fewer employees are required to manage the businesses to reduce administrative costs, making CRM implementation profitable.
Better productivity and efficiency: RPA bots put out the best work 24*7 and efficiently perform multiple complex tasks. Also, there is better operational efficiency.
Reduced cycle time: Lead management and nurturing, routine sales activity, and customer support consume more time and are rule-based manual tasks. RPA has the power to complete these tasks in a short time, and as a result, there is a reduction in cycle time.
Fewer Errors Often Data entry errors are owing to human fatigue, the short concentration that leads to loss of time and money and loss of credibility and creating a dent in reputation. With RPA automation, we can reduce human errors.
Contract management: A CRM system primarily deals with managing customer and vendor contracts, and RPA helps track these contract documents and dates of expiry. We can automatically send notifications in case of expiry to vendors and customers and create a detailed report to take further action.
Other associated benefits: After the integration, Salesforce users can achieve these benefits like Automating critical processes in the customer life cycle, Simplifying and streamlining dynamic and complex workflows involving multiple systems, Maximizing ROI through automation without a high cost of development and finally, Reducing unnecessary operations
What can you automate in Salesforce?
New digital process capabilities help build branded digital experiences quickly with drag and drop tools empowering business users to signify automation logic, extract necessary information from documents, and integrate it into automated workflows. These include MuleSoft Composer for Salesforce, Salesforce Flow, and Flow Orchestrator.
Salesforce RPA helps in:
Obtaining data from emails
Transferring data between Salesforce and other systems
Interpreting and manipulating data,
Updating or syncing data
Responding to demands of customer requests by using chatbots and automated emails
Adding lead data into Salesforce obtained from campaigns
Generating custom reports
Integration of Salesforce with other applications
All these lead to substantial gains.
Case management
RPA is of great help in managing customer service requests, extending help desk requests, and facilitating work orders in the CRM. The next stage is automating data entry related to customer quotes, order history, shipment tracking, and payment history.
Customer support
The use of CRM systems helps companies provide the most efficient customer service. RPA synchronizes data from various systems to create a single view in a few seconds. It also collects the name, past interaction history, billing details, and user preferences and helps agents give the ideal customer experience.
The future of RPA
RPA in Salesforce has a promising future as it can streamline several customer-facing tasks. The companies that focus on increasing the productivity of sales, marketing, and customer support teams think high of RPA. It opens the door for new capabilities in the digital arena and empowers business users immensely. By receiving help from AI and the next significant wave of innovation, RPA can focus on business process problems, human augmentation, process improvement, revised planning and forecasting, and better decision making leading to excellent outcomes.
It can also revolutionize human efficiencies and thrive with digital transformation. Like today in the future, RPA can work for the progress of businesses because of its tremendous potential to use the technology for better productivity, efficiency, and customer service. As RPA becomes strengthened and brighter in the future, it can offer a series of benefits to enterprises, customers, and workforces. It can improve efficiency, give the digital customer experience, drive productivity, and keep pace with the new standards and demands.
ABSYZ AND RPA
ABSYZ has a keen interest in RPA and can deliver the ideal results. We will be happy to offer all the levels in it and work for great results. Contact us to know more about it.