Our lives have traditionally been dependent on Health care. But since the Pandemic hit the planet, we all have a deeper understanding of its importance. Salesforce was prepared before this and launched "Health Cloud" in 2015 with well equipped features and functionalities to handle daily operations of healthcare organizations. With in-depth research and experience in the Healthcare industry, Salesforce developed the Salesforce for health care (Health Cloud CRM) to prepare the industry for the future. 
According to a patient report linked to Salesforce for healthcare, 61% of patients believe post-discharge care improves communication. Salesforce is committed to providing a unified end-to-end patient care and healthcare user experience through its Health Cloud integration products. The solution uses social, mobile, and cloud technologies to deliver analytics reports to healthcare users, helping healthcare providers deliver high-quality healthcare at the right time.
In what ways does Salesforce Healthcare CRM benefit the healthcare industry?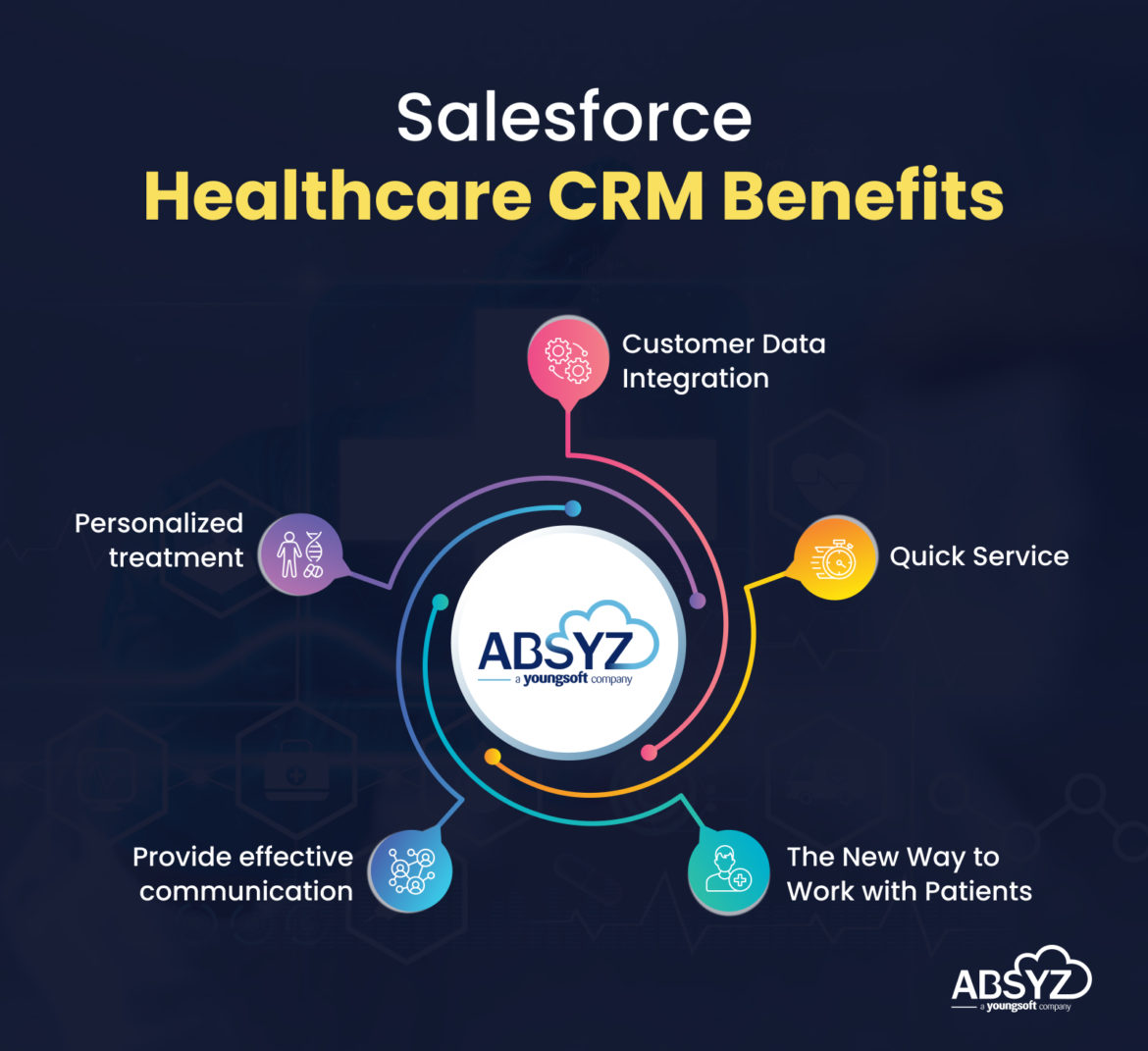 Customer Data Integration: Obtain a comprehensive understanding of all aspects, including case coverage plans and visibility into current customer needs.
Quick Service: The importance of having the right information available is underlined by the fact that it can significantly reduce waiting times in hospitals and clinics, which is very important for busy companies. Also, quick access to a patient's medical history can save a person's life in an emergency.
The New Way to Work with Patients: As the pace of modern life increases daily, people respect every technology that can save time for important things in life. Health is important, but few people miss the opportunity to stand in line to see a doctor without going to the hospital. Salesforce offers great prospects for telemedicine and home care adoption. The availability of virtual healthcare options may affect some patients' choices when choosing healthcare providers.
Provide effective communication: Collaboration between team members across the company is enhanced through healthcare cloud integration. This allows users to assign tasks within the network without errors. You can also take full advantage of the mobile capabilities of these platforms by sending text messages to patients to reach out quickly and build strong relationships.
Personalized treatment:  Healthcare coordinators find it very easy to provide patients with the most personalized treatment because they have access to all patient information like patient communities, data models, mobile experience ect., Einstein's artificial intelligence, user ratings, and surveys are part of Health Cloud's robust technology portfolio, enabling patients to be segmented into lists so they can provide personalized services based on their information.
Future of the Healthcare Industry
A unified healthcare system operating in an integrated environment is inevitable, as developments in areas such as healthcare are expected to reach over USD 135.6 billion in 2021 and are expected to reach USD 167.4 billion in 2022, as reported by GrandViewResearch.
An integrated healthcare system has the power to manage patient care at all points of interaction. By tracking a patient's complete medical history, call center staff can quickly gain a 360-degree view of the patient by combining marketing campaigns, Electronic Health Record (EHR) updates, and retail activity. By choosing Salesforce Health Cloud EHR integration, you can enhance CRM capabilities and provide additional government capabilities, such as community portals for teamwork and retail capabilities for patient experience drivers.
More importantly, increasing patient involvement in the changing world of Healthcare can prepare an organization or care provider for advances in healthcare, and this is where Salesforce comes in.
Conclusion:
Salesforce for healthcare is a revolutionary medical technology that has the potential to completely change how patients and healthcare professionals interact with one another. However, to maximize the benefits of this innovation, it is essential to integrate the Cloud with the current configuration and modify it according to your needs.
Author: Rakesh Neelam
Editor: Manognya.SM