Salesforce Health Cloud is a platform for tracking and managing doctor-patient interactions. It is an extension of Sales Cloud and Service Cloud which combines a wide range of data from various sources in one place, giving you an in-depth look at each patient's clinical and non-clinical information (like a medical condition, current medications, Health records, Patient history data, tests performed, personal communication preferences etc.). As a result of this strategy, more targeted, timely, and intimate care is possible and Patients are given the highest priority with well integrated systems and inturn increasing the Patient experience. 
Patients are enabled to use this platform at any time, place, and from any device to contact and communicate with the staff, seek answers to frequently asked questions, submit paperwork before their appointment, and fulfill other obligations.
This Health Care CRM Solution ensures data protection, making its use completely secure and safe. The Health Cloud allows users and healthcare providers to view all patient information in real-time, including medical history and scheduled health check-up appointments.
Salesforce Health Cloud provides a comprehensive 360° view of your patient's experience. Clinicians, payers, pharmacists, and healthcare teams can access a centralized view of patient information through Health Cloud, including clinical data, prior and planned visits, and interaction history.
Health Cloud enables personalized communication between the patient and the related health entities. It benefits patients as well as Health Care providers by allowing them to communicate with their care team via digital methods.
At its most basic, the Salesforce Health Cloud is a clinically focused platform built Salesforce Health Cloud Features on top of the Salesforce platform that enables procedures such as:
Patients Acquisition
Marketing campaigns to reach a wide audience of patients
Management of patient interaction and engagement
Recruitment of Physicians
Surveys and evaluations of patients
Care plan monitoring and administration
Patient risk classification
Salesforce Health Cloud Features
Salesforce Health Cloud Features include Patient Profiles, Care Teams, Task Management, and Collaboration Tools that make it easy to manage Patient Data and deliver coordinated care.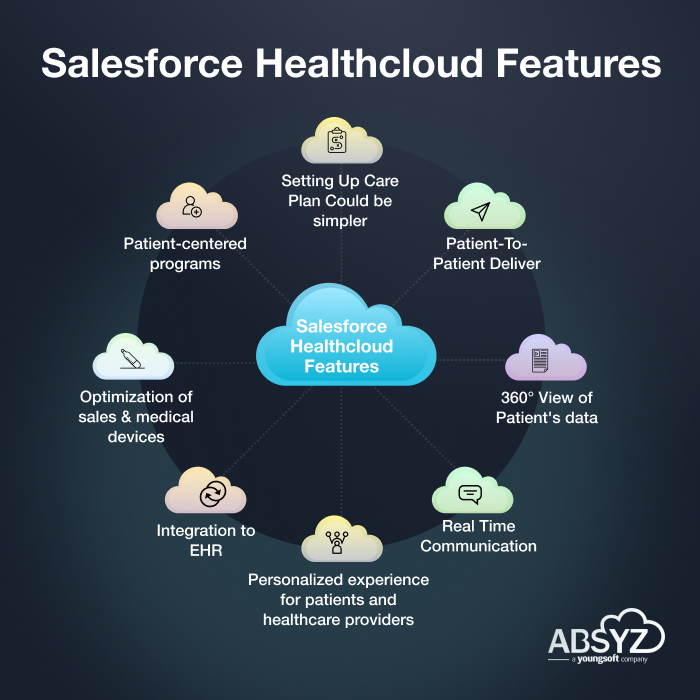 1) Patient-to-patient deliver
Healthcare experts can provide the required attention to each patient by delivering personalized services. The Salesforce Health Cloud provides a complete image of the patient without data depot, inconsistencies, security flaws, or service delivery delays. All actions are centralized in the cloud, allowing everyone to access the same data and work on the same platform. A patient overview also aids in service standards. The patient can be helped throughout the procedure.
2) Setting up a care plan could be simpler
Simple and customized care plans can be designed depending on the needs of each patient to address any health concerns and provide the best available answer. The Salesforce Health Cloud enables patients to enroll in care plans in a simple and effective manner. This increases service quality while bringing down operating costs.
3) Complete view of the patient's Data
In addition to the individual patient perspective, a complete view of all patients can be used to give the most effective healthcare services. The present state of health, appointment history, medical history, drugs used, and other critical information are all provided in detail with only a few clicks.
4) Real-Time Communication
The Salesforce Health Cloud ensures that patients are constantly in contact. By connecting to the private Salesforce community, businesses can also acquire real-time healthcare advice for the convenience of patients and medical professionals. Patients gain confidence and trust as a result of this.
5) Integration to EHR
Salesforce Health Cloud connects to existing electronic health records (EHR), providing a centralized view of all tasks and goals associated with treatment programs. This improves the company's service efficiency.
6) A personalized experience for patients and healthcare providers
At each stage of the patient's journey, the Salesforce Health Cloud enables tailored patient engagements across various channels, including online and by phone. Medical personnel can use a gateway to respond to individual requests from patients in real-time.
7) Optimization of sales and medical devices
Medical equipment manufacturers use the Salesforce Health Cloud in sales because it centralizes data, generates key insights, and facilitates task automation across several devices. Medical staff can be aided with real-time treatment predictions, statistics, and insights for each contract. This greatly improves the treatment procedure.
8) Patient-centered programs
Most importantly, medical technology companies can help patients receive optimal healthcare by designing personalized patient programs. Individual needs can be met by using the benefits of guided program enrollment, omnichannel communication, and digital coordination and balance.
Benefits of Salesforce Health Cloud
Salesforce Health Cloud is a customer relationship management (CRM) solution focusing on care management, patient experience, and system usability. This platform is aware of these needs and has been developed to address them. Here are just a handful of Benefits of Salesforce Health Cloud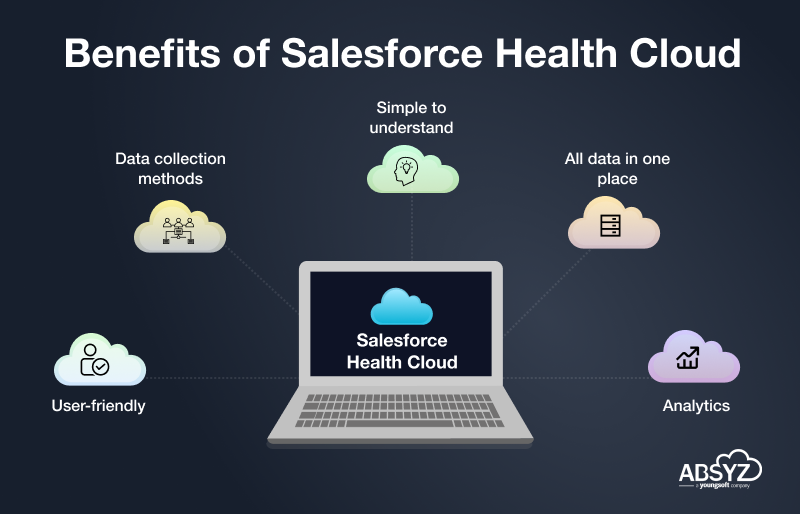 User-friendly: With Salesforce Health Cloud, you can manage patient care, improve patient experience, and create a user-friendly system.
All data in one place: Patients can view their whole health history, contact information, insurance options, existing health conditions, and prescriptions on a single page.
Data collection methods: It is possible to collect data from wearables, medical devices, sleep habits, exercise, and glucose levels.
Analytics: Patients are categorized based on their condition, drug kind, age, or another criterion. The Salesforce Health Cloud can provide useful and detailed insights. It may be evaluated how patients engage in treatments and therapies and why they discontinue their use. This information can be used to create unique solutions for improved results.
Simple to understand: Health Cloud uses charts and a color-coded approach to provide data in simple formats, making it easier than ever for clients to get the information they require.
Conclusion:
We are excited to share some of the benefits of the Salesforce Health Cloud. The Health Cloud offers a variety of features to help you manage all aspects of your organization's health and wellness. With this blog, we hope you better understand how the Health Cloud can help you improve your health and wellness programs.
Aside from these functionalities, the Salesforce Health Cloud can be further customized by utilizing one of the many AppExchange apps. As a result, Our CRM is more powerful and customized to various types of businesses. Salesforce Health Cloud also follows HIPAA regulations.
Author: Narendra Edara
Editor: Manognya.SM